Up to 35 m2 of space in the mobile homes on Lake Garda of our tourist village: to try!
The mobile homes on Lake Garda, which you can find at Camping Eden, look like real homes and are a perfect eco-sustainable holiday solution in the meadows of a lakeside campsite. Mobile homes on Lake Garda are of various types and sizes, in fact in our village you can find them with a surface area of 18 m2 up to a maximum of 35 m2, in any case with a wall thickness of at least 7 cm. All this to satisfy first of all the space needs of small and large families, secondly to insulate them from the summer heat in the best possible way. 

The very modern structures that we have installed in the campsite make the
mobile homes on Lake Garda
aesthetically identical to the brick houses and always personalized. Generally, they have two bedrooms, to accommodate at least four people, a living room with kitchenette, bathroom and terrace, on request also air conditioning, which however, as you know, is not always necessary by the lake, given the evening breeze!

If you want a lake view, just book in time, you can have that too! Imagine spending serene days on the beach or by the pool, immersed in the greenery that only the lake can offer, getting up from your deck chair just to play with your children in the water, resting after a nice shower in your mobile homes on Lake Garda, and, finally, being able to choose whether to cook independently or go comfortably to the restaurant or pizzeria inside our touristic village... not a bad idea, right?  
Mobile homes on Lake Garda: discover them in more detail!

At the Eden campsite we provide guests with comfortable mobile homes on Lake Garda, furnished with extreme attention to detail, ideal, in short, for an open-air holiday that is as pleasant as possible. First of all, we are proud to present you the Villa Eden mobile home, the new born in the Eden house, the real novelty of 2019! It is a luxury mobile home, equipped with two separate bedrooms, two bathrooms, a large living room with kitchenette and a terrace with a breathtaking view! Our other mobile homes on Lake Garda have nothing to envy:


●
Viola mobile home 

●
Azzurra mobile home 

●
Paradiso mobile home

●
Giada mobile home
●
Eden Suite mobile home 

●
Villa Eden mobile home


Viola and Azzurra both have two bedrooms separate bedrooms, one with a double bed and one with two single beds, living room with sofa bed and kitchenette, bathroom and terrace. Paradiso has more than the latter, a second bathroom and Giada, finally, has three separate bedrooms, one double and two with two single beds, as well as, just like all the others, living room with kitchenette , bathroom and the inevitable terrace overlooking the lake. The "Eden Suite" solution is instead the most romantic, ideal for two people, with a kitchenette for breakfast only.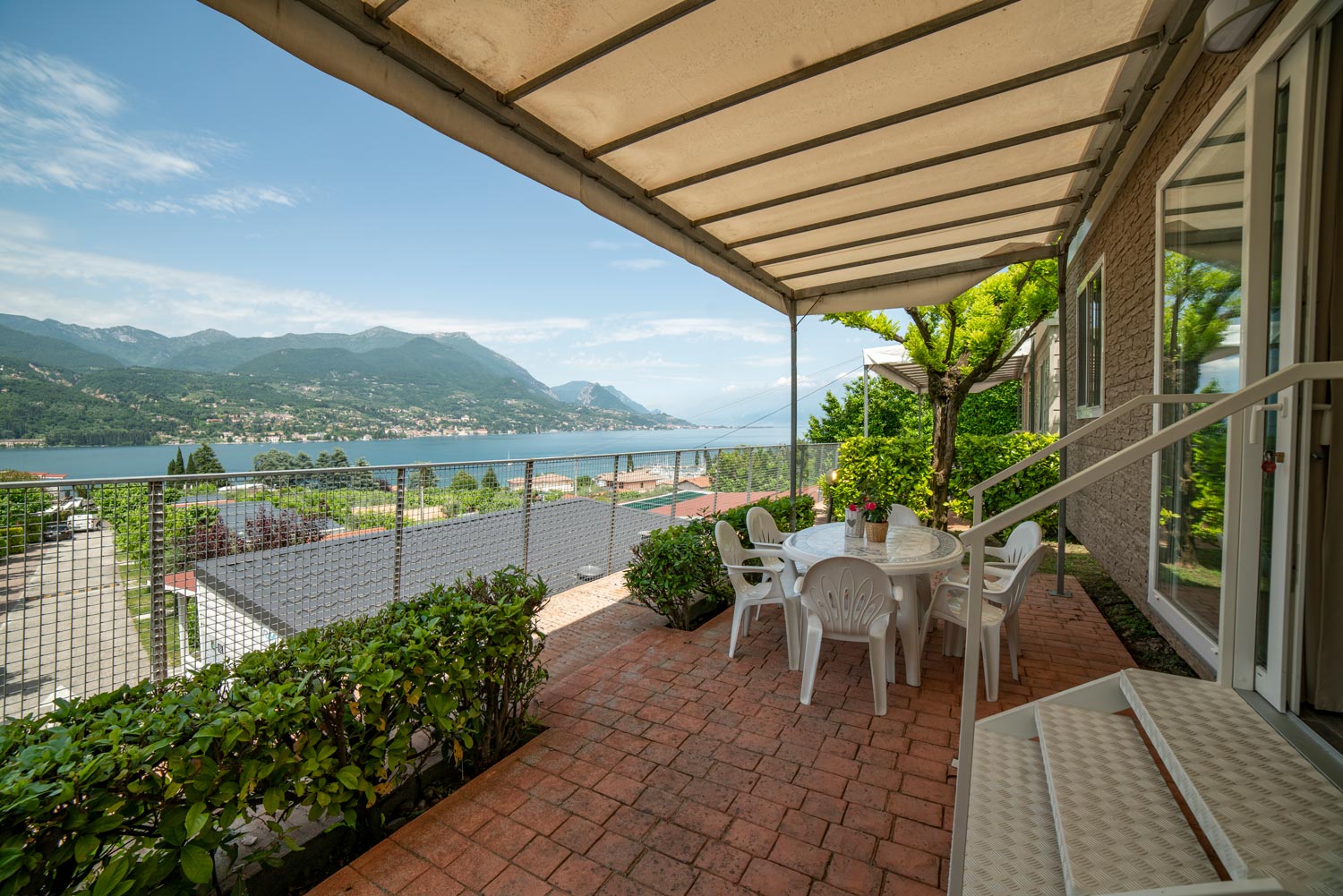 New mobile homes on Lake Garda
What if we told you that among the novelties for next season there are even more mobile homes where you can stay? Well yes, in addition to those mentioned above, the Eden campsite offers:
Like other private accommodations, these solutions also offer everything you need to spend an unforgettable holiday. They have separate bedrooms, private bathroom, living room with equipped kitchen and dining table and sofa bed and a beautiful equipped terrace, with the possibility of a lake view if you choose the Garda mobile home.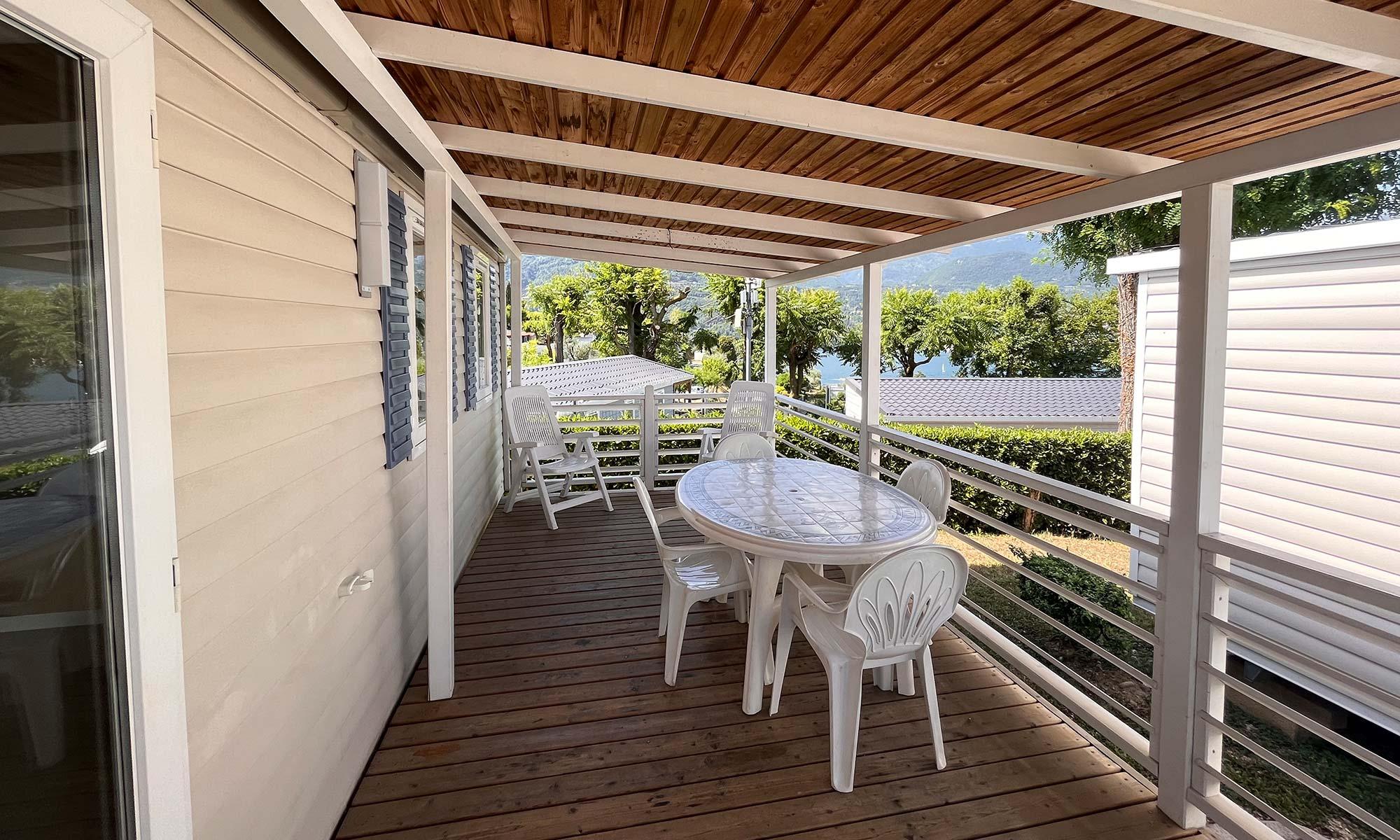 Mobile homes on Lake Garda: the apartments
The surprises are not finished because camping Eden has decided to add even more private lodgings, to give all families the opportunity to find the solution that best suits their needs. We therefore present the brick apartments:
-
Chalet Marty
-
Chalet Marty Superior
-
Deluxe chalets
-
Superior Deluxe Chalet
Each apartment consists of bedrooms, private bathroom, living room with kitchenette, dining area and sofa, equipped outdoor terrace with the possibility of a lake view. The chalets vary in size depending on the number of members of your family, but you don't have to worry because they welcome from 2 to 5 people, guaranteeing comfort and privacy for everyone.
A parking space is guaranteed with each accommodation and you have access to all the services present in the structure and dedicated to guests.


Why choose mobile homes on Lake Garda?
The advantage of booking a mobile home in the Eden campsite is that you will stay in a structure with many comforts and services that will make your holiday unforgettable. Unlike a private apartment rented for the summer,
the four-star Eden village offers relaxation and the opportunity to meet many new people and the beautiful surrounding area.
But the benefits don't end here! Among the strengths of mobile homes on Lake Garda is the security that guarantees overnight stays in a supervised structure. At any time of the day or night you can rest assured! Furthermore, you won't have to worry about looking for a parking space, an activity that can waste a lot of time during your holiday, especially if you are traveling during the high season. The campsite provides a parking space for each mobile home, bungalow and pitch. The
proximity to the lake
means you don't have to use the car to get around and reach the beach. Same thing for the city center which can be easily reached on foot or with a bicycle. 
And to eat? Don't worry because the Eden campsite has a complete catering service that
will please the whole family
, adults and children. You can say goodbye to the shopping list and the time spent cooking and dedicate your entire holiday to relaxation, we'll take care of the rest! 
We have told you about some advantages, but the services that Eden offers are still many.


Mobile homes on Lake Garda: all services at your fingertips!

The Camping Eden Village is a camping on Lake Garda that offers its guests an infinite number of services, to make their stay unforgettable in this corner of earth kissed by the gods. Staying at our mobile homes on Lake Garda you can take advantage of all the
services on our campsite
, including in particular:


- large park with garden
- private beach
- fresh water pools of various depths
- Waterslides
- Toilets
- bathroom for people with disabilities
- showers and washbasins
- Bar
- Restaurant
- Pizzeria
- Minimarket
- Game room
- Satellite TV
- sports fields
- ATM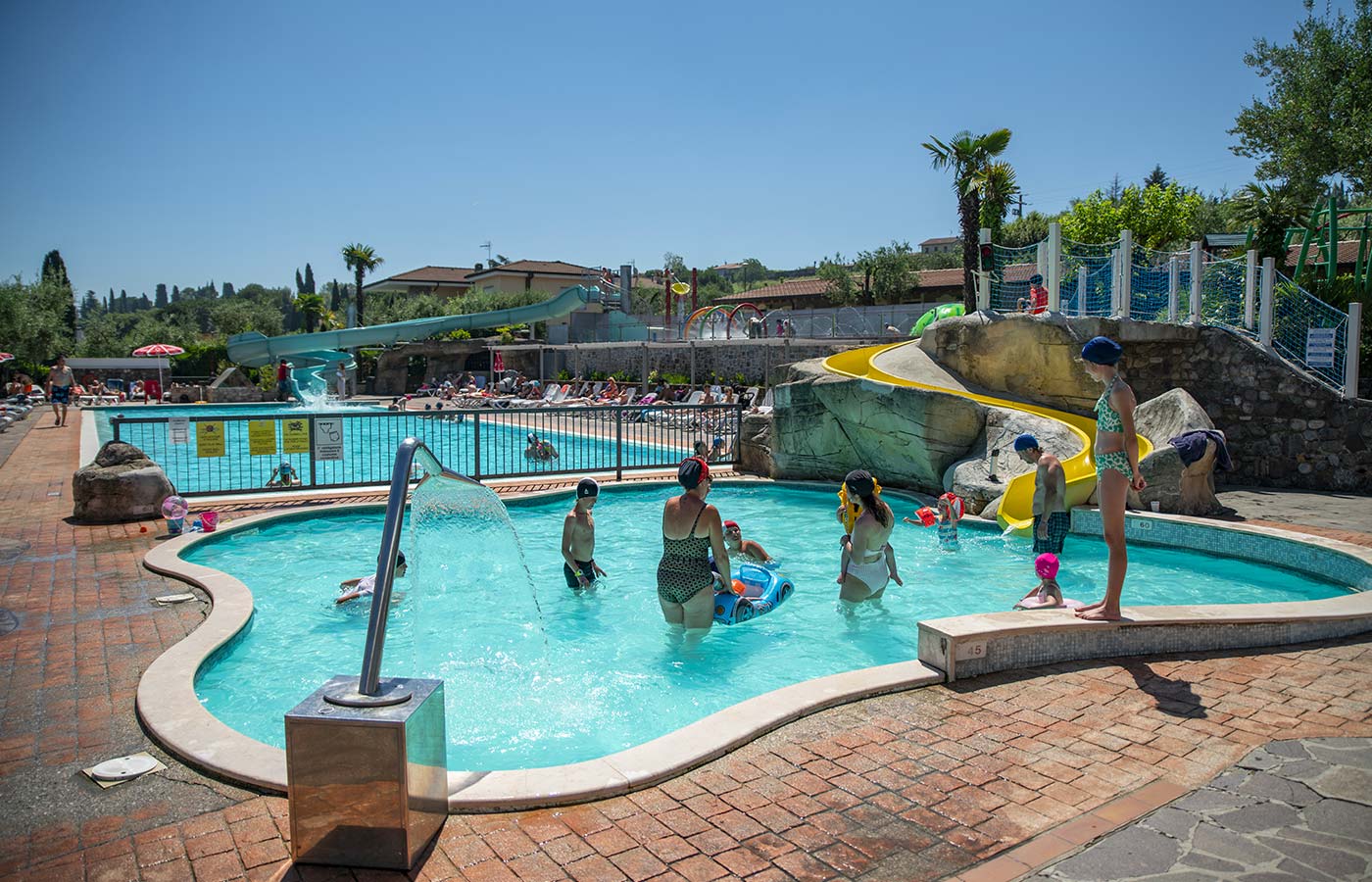 Mobile homes on Lake Garda: activities and entertainment
There are many activities to do during your holiday in mobile homes on Lake Garda. Depending on your preferences you can choose between:
- walking and trekking
- watersports
- visit to monuments and museums
We start from the many mountain paths that can be followed. The Eden campsite is in a strategic point that will allow you to explore the entire western area of ​​the lake, but also to comfortably reach the eastern area by ferry. Among the most beautiful walks to do near the campsite is the path to get to the Rocca di Manerba,
also suitable for children.
The walk will take you directly to the Rocca from which you can enjoy a beautiful view of the lake. On site there is also the museum dedicated to it, to learn more about its history and to spend an afternoon immersed in nature and culture. For trekking lovers there are many routes of varying difficulty. Among the most recommended, even for children, there is the path to reach the summit of Mount Pizzocolo. Even from there you can admire the lake in all its beauty and stay cool for a few hours before returning to the campsite to relax in your mobile homes on Lake Garda.
As for water sports, the possibilities are also many. If you are curious, we invite you to read this article dedicated to the
different sports that can be practiced on the lake.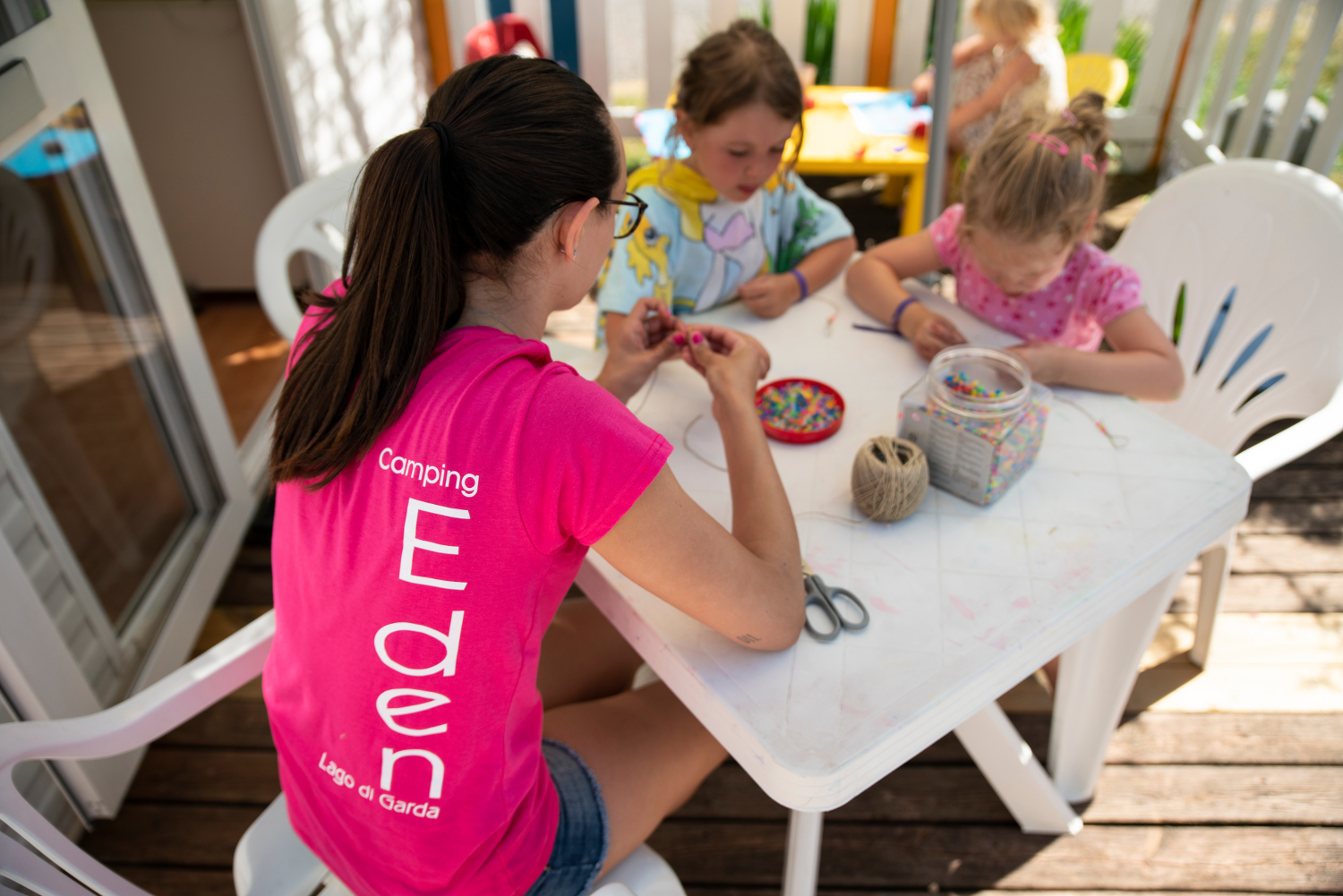 Mobile homes on Lake Garda: ideal accommodation for families

For families, especially the large ones, the comfort and safety of the tourist facility are fundamental. Schedules, meals, privacy, intimacy, services ... it is necessary to meet every need, without disturbing the balance and family habits. Here then is that the
mobile homes on Lake Garda
at the Camping Eden become the perfect accommodation for a holiday with children, more or less large, in a unique place, quiet and relaxing, but also exciting and fun.

In the mobile homes everyone will find their own space, no time set for eating, the mother can cook the family's favorite dishes and organize the day as she sees fit. We do not underestimate the outdoor space available for each mobile home for lunch in the garden, for children to play safely and to hang out the laundry.


Camping life inevitably leads to sharing spaces, socializing and making new friends, this applies to both adults and children. In the large playground, in the new swimming pool with breathtaking slides, in the common green space, on the beach ... every place is fertile to share emotions and smiles, thoughts and fun. This is the trump card of the campsite you will certainly return home richer in heart.