An exhaustive guide to all the sports activities that can be practiced by adults and children in the Garda area during your holiday at camping Eden.
Are you a sports lover looking for an unforgettable experience? The
holidays on Lake Garda
are the right solution for those who want to enjoy all the holidays, in the spirit of outdoor activities. Today we want to take you to discover the many water and non-water sports that you can decide to do once you arrive on site. Prepare your suitcases with everything you need, you will not regret it!
Holidays on Lake Garda: water sports
Let's start from the main attraction of the area, that is the lake and its
countless beaches
where you can relax and which serve as the main starting points for all those sports that are practiced in the fresh waters of the area. The activities are truly innumerable and among the main ones we find: 

●  Canyoning,
suitable for the more adventurous and daring. Cold water courses complete with rapids and waterfalls to take your breath away and increase adrenaline: this is the spirit of those who love to engage in extreme activities. The most suitable places to practice canyoning are those located in the north-west of Lake Garda.
● Rowing,
the sport par excellence of every lake could not be missing on Lake Garda and enthusiasts will be happy to know that every year numerous events aimed at this practice take place here.
● Diving,
to be able to explore the seabed and its hidden wonders. It is in fact possible to observe numerous wrecks, including ships, statues and cribs, without forgetting the beautiful natural caves in the area. What more could you ask for from your holiday on Lake Garda!
● Water skiing,
a perfect activity for both adults and children who will be able to learn to practice sport with the help of expert teachers.
● Parasailing,
to be able to rise from the water and touch the sky with a finger, being carried by a motorboat.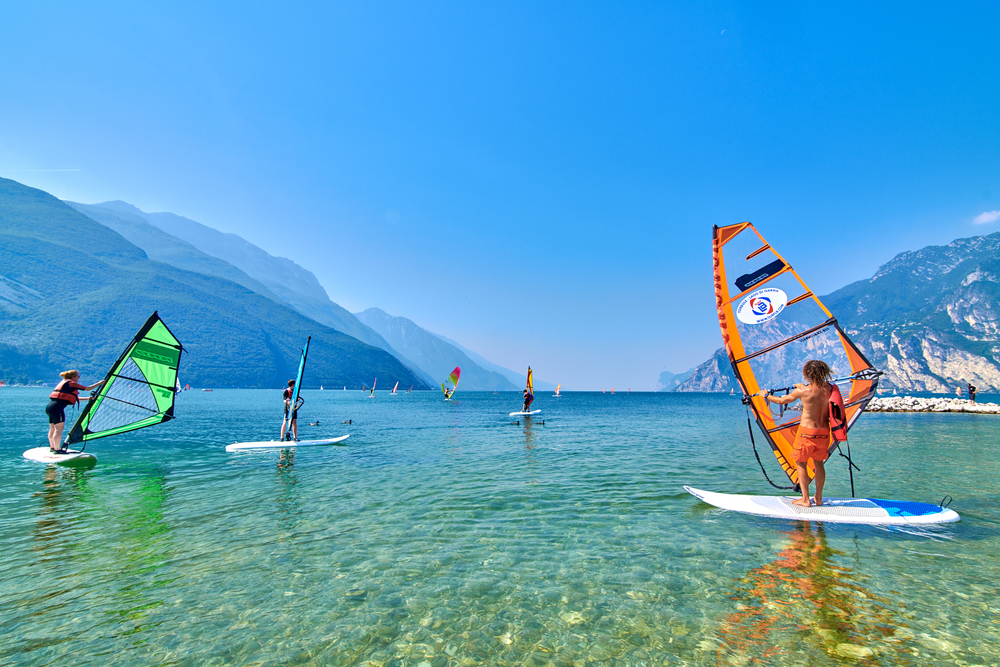 Holidays on Lake Garda: air sports
Let's move on to the activities that can be done by taking advantage of the heights offered by the mountains on the lake. The main sport in this case is paragliding , practicable starting from the summit of Monte Baldo and reachable in a few minutes thanks to the panoramic cable car of Malcesine.
Holidays on Lake Garda: land sports
We then come to sporting practices on land , which include various activities like: 

● mountain biking
● climbing
● golf
Do not forget the numerous walks and mountain routes that you can explore. You will reach the peaks of the mountains in the area and be able to admire the landscape and the vegetation of the area during your holidays on Lake Garda.