How to organize yourself to spend a moment of relaxation in total comfort while remaining immersed in nature. The ideal holiday in our campsite with swimming pool on Lake Garda.
What are the characteristics that we all dream of to give life to our dream vacation? The first is certainly a location that can take your breath away thanks to its extraordinary beauty, followed by the comforts given by the type of structure in which we want to stay, but without ever forgetting the most important aspect, that is the company. When we are preparing to organize a break from the daily routine of home-work, it is important not to neglect any of the aspects that we consider indispensable for our stay to be as relaxing and pleasant as possible. We know well how each of us has different needs and that is why every holiday should be booked with the peace of mind of knowing that the place that will host us, will respond to our every need. Let's see together how to build a holiday with a fairytale atmosphere.

What steps to take to create the ideal holiday?
First of all, it is good to draw up a set of steps to follow in order to satisfy your every desire. It is important to proceed from a more general level to a more specific one, so as to create a perfect puzzle that can be completed without difficulty. As mentioned before, we will start from:
- choice of location
- identification of the structure in which to stay
- confirmation of the availability of the desired comforts
- creation of an ad hoc stay package
The wider sphere of interest is certainly where it will be decided to spend the long-awaited holiday period. For this choice, the personal nature is undoubtedly an excellent indicator in focusing on landscape or cultural locations. In the first case, however, opting between a maritime nature or a mountain is not always so immediate, that's why in order not to have to discard one of the two, what we recommend is a meeting between both naturalistic realities. Where are you wondering? On the shores of the splendid Lake Garda, a place that with its shores and its mountains manages to bring together the most undecided minds.

Why choose a campsite with a swimming pool on Lake Garda?
Now let's move on to the next steps of accommodation and comfort. To enjoy the landscapes and nature, what better solution than to decide to stay inside a camping in direct contact with everything that surrounds us! Excellent, but if we wanted to stay immersed in this atmosphere, how could we still cool off and have fun? What if we offer you a campsite with a swimming pool on Lake Garda? This combination would meet all your needs for both relaxation and play, without neglecting the beauty of the flora hosted by the area. The camping with swimming pool on Lake Garda will not only allow you to enjoy a fresh bath surrounded by greenery, but will allow you to rest and have fun while staying close to your accommodation. What better comfort than this?

The swimming pool is just a highlight of the services of our camping on Lake Garda.
Indeed, the pools ... because there are two pools, one for the youngest with a safe height, slide and water spray and a larger and higher one for the kids and adults. Let's not forget the small splash playground built just for the amusement of children, with surprising paths and splashes! Especially the families who have been our guests have left us very positive comments, precisely because of the swimming pools and therefore the entertainment of the children.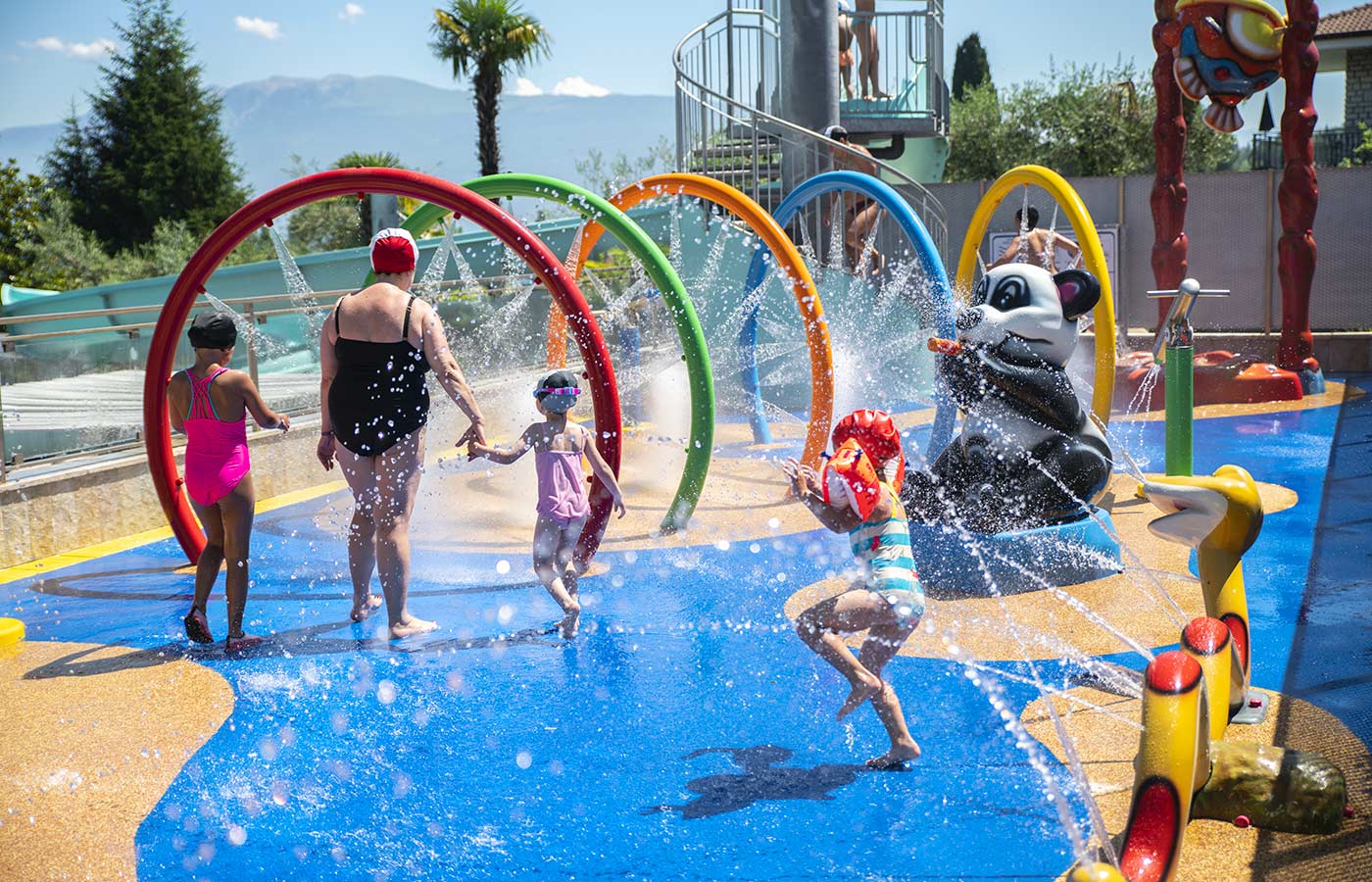 And the other services of our Eden camping on Lake Garda?

Let's start with food and wine, famous here on the coasts of the largest lake in Italy. Inside our village there is a pizzeria and a restaurant where you can taste excellent dishes and typical products, as well as a bar for tasty aperitifs and happy hours with friends and people you know right here!

There is also the well-stocked mini-market for all daily expenses and purchases, in order to be able to cook freely and comfortably in the chosen accommodation without sacrificing fresh products. It is important for us to let you find everything at your fingertips, without having to move away or take the car to reach the local supermarkets.

As we said before, we thought of many activities to carry out right inside the camping on Lake Garda, for all ages, so that the holiday is fun and satisfying for the whole family. There is a multipurpose sports field as well as one in synthetic grass for playing tennis and football.