Camping Eden offers you a special holiday in bungalows on Lake Garda. Chalets, mobile homes and bungalows on Lake Garda, equipped with every comfort, are located a few steps from the campsite's private beach.
Confess it: every time you think of a summer vacation, imagine paradisiacal views, tourist facilities with all possible comforts and proximity to the water, be it sea or lake. Well, we have a proposal that you cannot miss:
wonderful bungalows and splendid mobile homes
in a
campsite on Lake Garda
, directly overlooking the beach!
The campsite with a beach on Lake Garda of your dreams
To fulfill this desire, all you have to do is choose Camping Eden, in the beautiful and charming village of San Felice del Benaco, a few steps from Salò and Valtenesi. Immersed in uncontaminated nature, which boasts a mixture of plant and animal species from different environmental types, our campsite offers
bungalows on Lake Garda
:
chalets from 30 to 40 square meters and mobile homes, from 16 up to 48 square meters, for a maximum of six people.
Each accommodation has an equipped kitchenette, bathroom and most of the units (both chalets and mobile homes) can also have a lake view.
This solution is the most popular among our tourists and the characteristic that distinguishes them is the access to our private beach in the Gulf of Salò.

The advantages of a campsite with a beach on Lake Garda
It's very simple, our campsite with a beach on Lake Garda offers you the best of a holiday all within the same facility. We have decided to organize our tourist proposal in such a way as to guarantee excellent services within the campsite, without having to force you to take the car or go to surrounding villages to do the shopping, to have fun during the evening, to find a bathing beach or a swimming pool for children. Everything you are looking for is here, a few steps from the bungalow on Lake Garda or from the mobile home you have chosen to rent. Obviously, if you have time and especially if you want to discover the beauties of this territory in depth, we will be happy to suggest an endless list of places to visit and wonderful views to observe, near the Eden village.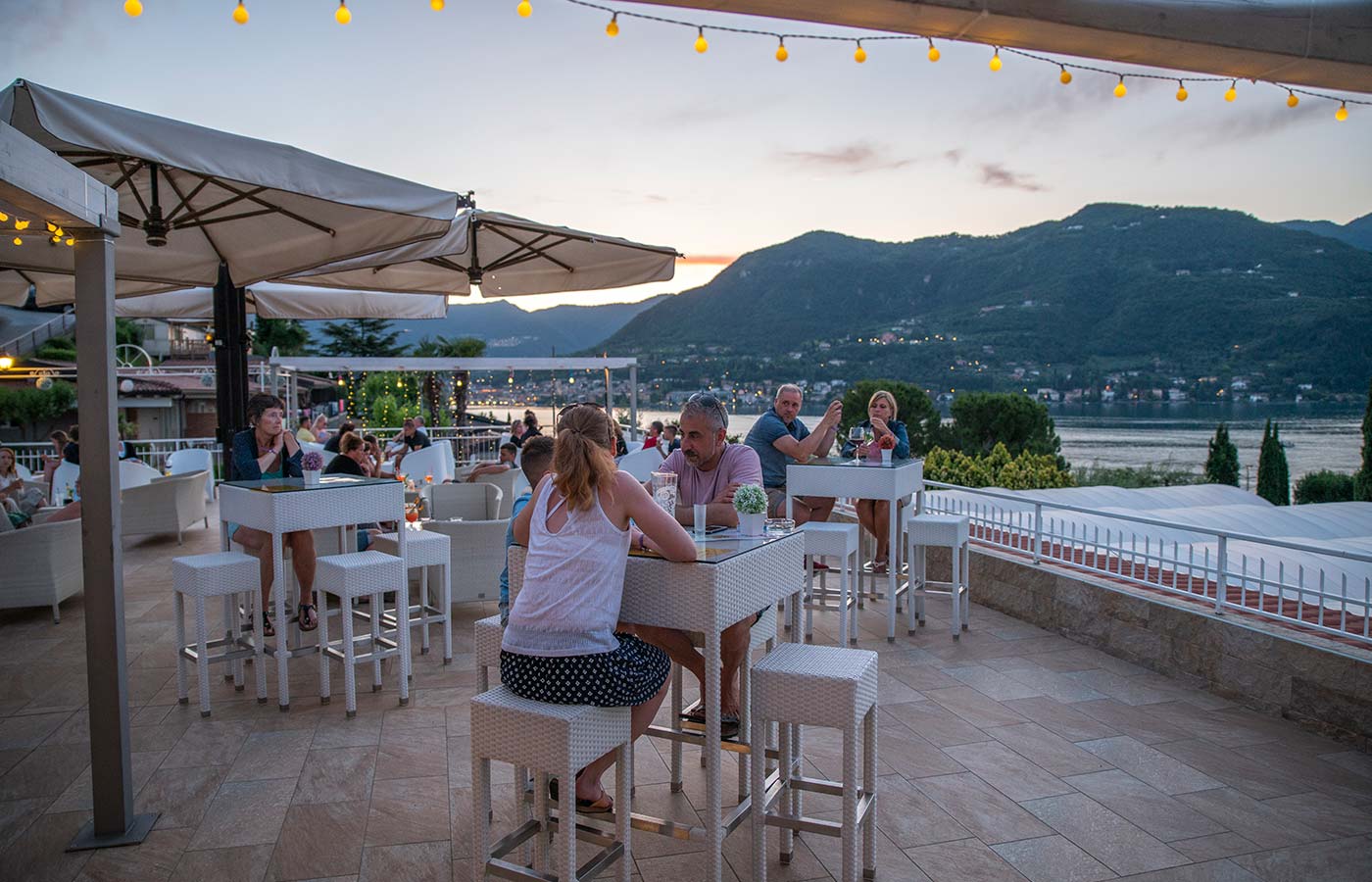 Eat inside the Eden campsite on Lake Garda
Have we already told you about the restaurant with lake view and the large pizzeria inside the Eden campsite? The best solution to be able to please everyone and to continue having fun until the evening without the daily thought of preparing dinner. Vacation also means taking time for yourself and indulging in the comforts that we cannot always have.
The possibility of having lunch and dinner inside the campsite with a beach on Lake Garda
will allow you to spend your holidays without additional thoughts, pampering yourself and helping you to experience the best holiday ever.
Entertainment at the campsite with a beach on Lake Garda
And as if that weren't enough, here's the icing on the cake: the campsite offers entertainment for all ages , from children to teenagers and adults. Everyone can find his own amusement dimension between playgrounds for the little ones and synthetic grass soccer and tennis fields for teenagers and adults. And finally two large swimming pools open from morning to evening where you can get together for a refreshing dip before returning to your accommodation. 
If all this seems like a dream to you, come and experience it for yourself. Book now your unforgettable holiday at camping Eden on Lake Garda !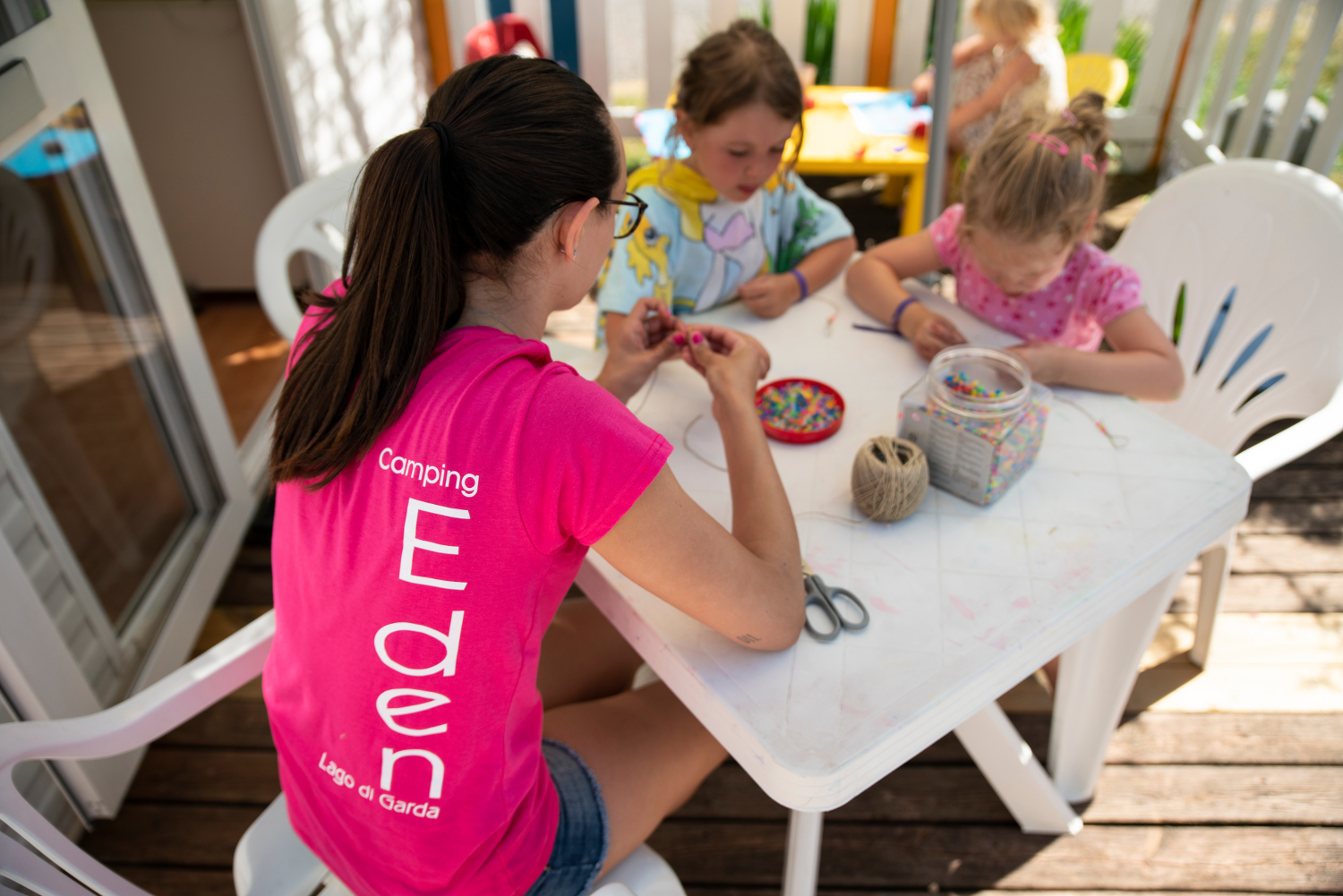 Our bungalows on Lake Garda
The four-star Eden touristic village offers its guests different types of accommodation within the structure, where they can stay overnight in total comfort. You will have the opportunity to choose between our beautiful bungalows on Lake Garda that can accommodate from 2 to 6 people. The campsite has:
● mobile homes
● chalet
● "luxury" mobile homes
Each mobile home consists of bedrooms with comfortable mattresses for guaranteed rest, private bathroom, living room with fully equipped kitchenette and a fabulous terrace where you can eat and relax during the hottest hours. It is also possible to request air conditioning in case you want to always stay cool. The chalets are apartments also composed of separate bedrooms, private bathroom for your exclusive use, living room with equipped kitchen and a splendid veranda with table and chairs with the possibility of a lake view. We conclude with Villa Eden and Eden Suite, two luxury mobile homes set in the beautiful Mediterranean nature of the Garda campsite Eden. The first is larger, perfect for a family, the second smaller, ideal for couples. What are you waiting for? Book your bungalow on Lake Garda now for an unforgettable relaxing holiday in one of the sensational accommodations offered by the Eden touristic village. For more information do not hesitate to contact us!