See you next year from your trusted campsite, we look forward to seeing many of you for new adventures. However, stay updated on our blog for curiosities, inspirations and offers.
We have come to the end of another sensational summer full of fun and well-deserved rest. We know how intense this year has been and we have put ourselves to the test again and we are pleased to have been able to give you a holiday focused on leisure and recovering the energy spent during the winter months. The closure of our campsite on Lake Garda has also come for this season, but this is only a goodbye because in a few days we will already begin to show you the new offers for the 2024 season with the possibility of booking your holiday in advance, to save and to spend a worry-free winter! In the meantime, we want to remind you once again why the four-star Eden tourist village has been chosen by so many families.
Camping on Lake Garda: village and campsite
Our structure aims to offer an unforgettable holiday to all its guests and understands very well that every person and every family has different needs and requirements from others. For this reason Eden offers every year the possibility to choose between its own
camping area
, made up of equipped pitches, and that dedicated to the village, in which the
mobile homes and apartments
are located. The solutions are different from each other, but both guarantee privacy and relaxation, without forgetting the beauty of being immersed in the Mediterranean nature typical of the area. Olive and lemon trees welcomed you during this summer season and will await you in the next one even stronger and more robust. If this year you have opted for one of the two solutions, why not experiment with the second next summer? You could discover a never-explored passion for camping with a tent or vice versa, pamper yourself in the comfort of furnished accommodation that is very similar to urban apartments.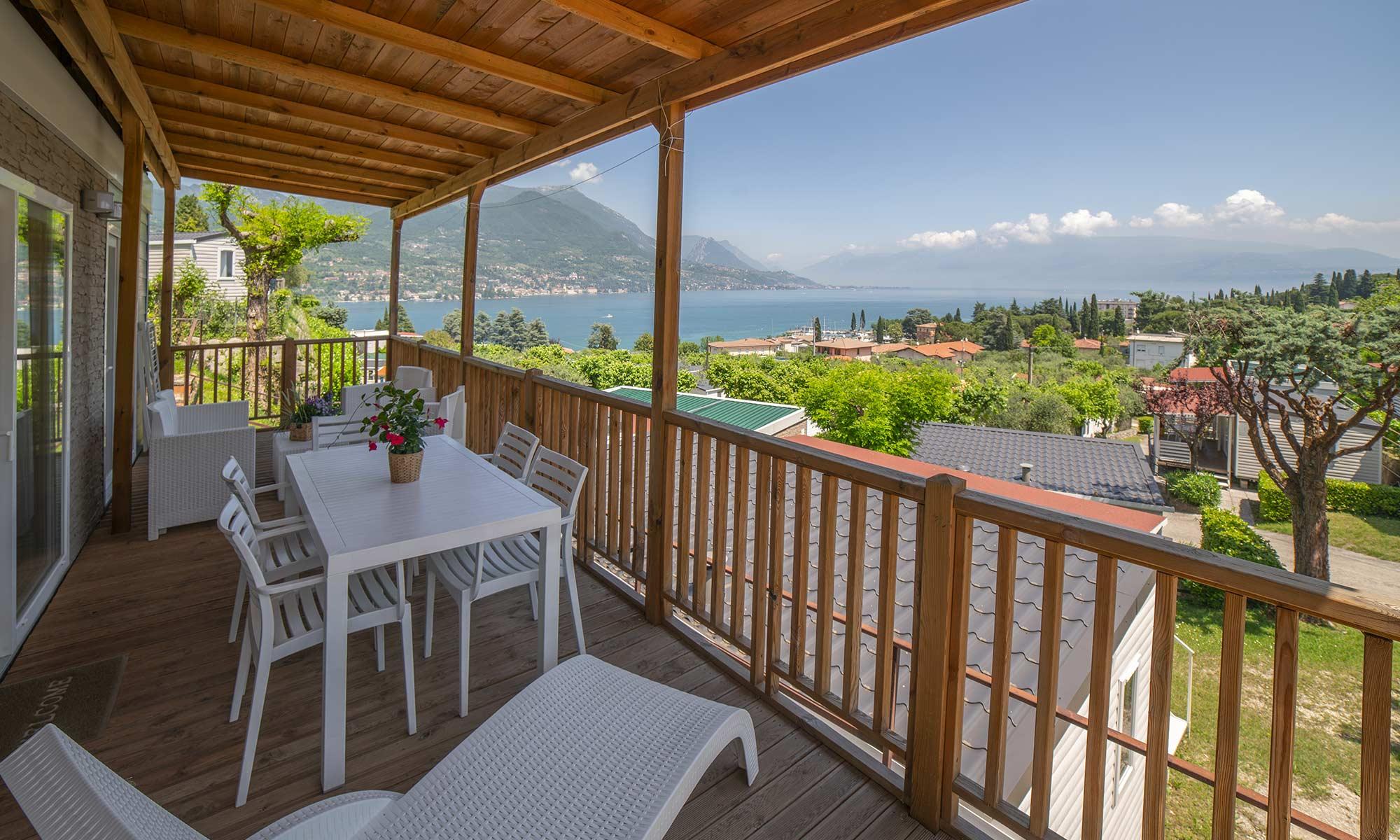 Camping on Lake Garda: services from A to Z
Among the possibilities made available by the Eden tourist village,
the services
that we renew and implement every year are undoubtedly one of our strong points. Not all campsites on Lake Garda can boast the presence of two supervised swimming pools with waterslides, water games and different heights of the pools, to allow the little ones to play safely. And it doesn't end here because the structure houses within itself:
● restaurant, pizzeria and bar
● multi-purpose field and tennis court
● TV room and games room
● convenience store
● children's play area
There is no doubt that for your enjoyment and that of your family, Eden camping on Lake Garda is the best choice!
Mobile homes and apartments at the campsite on Lake Garda
Among the solutions most loved by our guests are undoubtedly the private accommodations in our village area. There are two types of accommodation:
● mobile homes
● apartments
The units can accommodate from two to six people depending on the type you choose.
Mobile homes are elegantly furnished homes perfect for families and groups of friends. They are equipped with all comforts and guarantee complete privacy and maximum rest. Each solution is equipped with one or two bedrooms, depending on the size, a private bathroom complete with shower, a living room with equipped kitchenette and dining table and an outdoor terrace complete with table for your evening dinners and for relaxing during the day.
The apartments are completely renovated brick structures complete with all comforts. They are also equipped with bedrooms with double or single beds, a private bathroom with all comforts, a large living room with dining table and equipped kitchen and an outdoor terrace with table and chairs.
Mobile homes and apartments can also have a lake view and an air conditioning system, for a fresh and unforgettable holiday.
Furthermore, you can bring your four-legged friend with you! The campsite on Lake Garda is pet-friendly and will be happy to welcome your entire family. Remember to bring with you everything you need to make your dog feel at home.
Camping on Lake Garda: why choose a holiday in this area
Lake Garda is a much-loved destination and every year many couples, families and groups of friends choose to spend their holidays with us to fully enjoy all the potential of an area so rich in history and wonderful natural landscapes.
It can truly be said that there is something here for every interest! The area is full of green areas where the most active people love to dedicate themselves to trekking on foot, long bike rides, afternoons on horseback, or even just a few walks to admire the unique panorama of the long lake and, why not, take some photos of your adventures. The lake, then,
with its many beaches,
offers unique opportunities for fun: from a day in the sun in which to enjoy fresh baths, to sports activities to be practiced in the water, such as windsurfing, boating or kitesurfing. In short, there are many forms of active entertainment available, but even those looking for a relaxing holiday will certainly not be disappointed. Lake Garda, for example, is the production area of many delicacies, such as olive oil, lemons from our wonderful citrus groves, freshwater fish and many wines. The cultural places to visit, first of all the Vittoriale degli Italiani and the Grotte di Catullo, will amaze you with their richness and prestige.
In short, if you are looking for a location that truly satisfies everyone, don't miss the offers for the 2024 season and book your stay at the Eden campsite!
Greetings from the Eden tourist village!